Panasonic KX-NS700 phone system
As an authorised reseller of the full range of Panasonic business telephone systems, A J Communications engineers are now full trained in installing and maintaining these latest KX- NS range of IP systems.
Designed specifically for small or medium-sized businesses looking to take advantage of Panasonic's reputation for quality technology, this is the latest replacement for the reliable and flexible NCP systems.
Using a mixture of legacy components and IP technology, the majority of old handsets can still be reused, it's a very cost-effective legacy and IP communication system for companies with up to 250 users in a single site that can be flexibly configured and expanded, making it the ideal alternative to cloud-based solutions.
Smart hybrid PBX system for small and medium-sized businesses
Expand from 6 extensions, up to 288 extensions with Expansion Units
Cost-effective installation and operation
Built-in applications include call centre solution, mobile solution and voicemail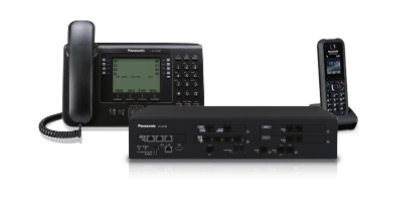 Multiple communications capabilities with this flexible system.
The system has sufficient capacity for legacy and IP ports, and an activation key or expansion cabinet that can be used to expand the system when you want. It can even connect to the Panasonic KX-NS1000 system to create a small or medium enterprise solution.
The system starts from only 6 extensions, up to 288 extensions with Expansion Units. It is also a unified communications system which has rich IP features, such as mobile linking, integrated voicemail and e-mail, instant messaging (chat), and presence information.
Perfect to use in an office environment for supporting full office functions across your business, the KX-NS700 incorporates mobile telephony, desk-based phones and highly configurable voicemail systems to ensure that staff stay connected, wherever they're working. Combined, they can improve functionality and enhance customer service.
Panasonic KX-NS1000 phone system V3
Designed for the business that prefers to use IP handsets on their structured networks, based on the IP and SIP protocols, can still use ISDN trunks if required, the KX-NS1000 offers a high level of flexibility and can be integrated easily into your existing infrastructure. Thanks to the modular architecture, these systems are perfect to use in a small office with just two people up a large company with several locations.
Users of an existing Panasonic legacy PBX systems i.e. TDE or NCP can easily migrate to an IP system by connecting a KX-NS1000 server via a legacy card, used to take control of the legacy systems. NS1000 systems are all licenced based and can be expanded to perform partial migration according to the available budget.
The KX-NS1000 is suitable for all kinds of businesses or industries, such as sales, customer service, hospitality, healthcare, and especially for remote teleworkers.
IP and SIP network communication server
Integrated unified messaging with up to 24 ports per unit
Build systems for up to 8,000 users
Reliable backup system to survive system failures
Call centre solution with voice guidance for customers
High-performance applications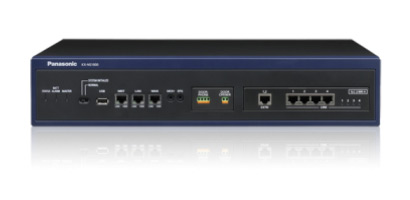 The KX-NS1000 provides an innovative unified collaboration and communication environment, including desktop tools, voicemail and an interactive voice response system (IVR). Fully transparent network features, first-class voice quality in HD wideband audio and swift capacity expansions make the KX-NS1000 the most complete Panasonic solution yet.
As the core component of a high-performance VoIP solution, the KX-NS1000 represents a secure investment, offering you optimum reliability and flexibility.
Even in remote locations, such as the homes of teleworkers, IP phones can be easily installed from a single site and used as extensions. The same method can be used to extend a VPN to the entire office network for more secure communication.
Voice guidance for customers and call data can be output to reports and analysed for improved customer satisfaction. Call data can be saved to an external server and exported as necessary.
In addition to customers seeking total IP migration, the KX-NS1000 supports phased implementation of future IP migration for customers that wish to use existing equipment.      
Softphones and desk phones can be paired and used with a single extension number, which leads to improved work efficiency.
A wide range of terminals and handsets are available to meet various user needs.
We can supply, install and maintain these systems quickly and efficiently so please do give us a call today on 01726 871701 for further information or advice on this product.
Leasing Options available on all digital systems